Contemplating on how to get rid of a timeshare? Why not do a good deed? Question is– Can you donate a timeshare to charity? Obviously, you can.
Timeshare donation is actually a relief strategy for many owners who no longer need the property but have grown frustrated over expensive resale tactics or simply not keen on having it as a rental property. Apart from the cost of maintaining or reselling a timeshare property, a timeshare can be more of a burden than a respite. A quick way to remedy this problem is to offer it as a donation for charity. Not only will a donation save on unwanted expenses, but it also offers a tax write-off.
Charity Organizations That Accept Timeshares
Your first step in donating a timeshare for charity is to assess your ownership. Is it fully paid? How about maintenance and other fees? Are they on-time? If your answer is yes then, you can simply choose among these charitable organizations that accept timeshares as donation:
Helping Hands Across America. A us-based non-profit that's affiliated with various groups like Meals on Wheels.
Donate For A Cause. This organization accepts timeshares both domestic and international. It allows donors to handpick their chosen charity from hundreds of listed charities on their roster.
The Charity Group. This organization works with various non-profit groups across the globe. Donor, however, cannot select a charity of their choice.
Gifts for Sight. Timeshare donation proceeds will go to the Eye Birth Defects Research Foundation. No-fuss as the group will handle all the paperwork.
SNHU Timeshare Donation Program. Proceeds of timeshare donated by you will deliver financial aid to qualified students for tuition, textbooks, facilities improvement, and so on.
The American Kidney Fund. Proceeds from timeshare donation go to the organization's fund to offer direct financial assistance and other comprehensive services intended for kidney research and programs.
The Florida Veterans Assistance Association. An organization that aims to offer assistance and services for all veterans and their needs. This used to be focused in Florida and had flourished across various states in the country.
International Hearing Dog (IHDI). This non-profit organization aims to use proceeds in training and allocating service dogs for individuals with hearing issues and/or disabilities.
The National Foundation for Cancer Research (NFCR). Timeshare donations are also accepted by the NFCR to fund new research for earlier diagnosis, treatments, and cure for the dreaded disease.
The Network Against Sexual and Domestic Abuse. Founded in 1979, this nonprofit organization helps to assist victims of sexual and domestic abuse via prevention and intervention programs.
Big Sky Youth Empowerment Movement. A Montana-based charitable institution, it provides scholarship assistance to young "at-risk" kids a new lease on life via various sports programs.
Logan's Hearts and Smiles. This charitable institution also accepts timeshare donation. Its main aim is to provide home remodeling to make it more accessible for the handicapped.
There are hundreds of other charitable institutions out there which accepts timeshare as a donation. The idea is to look for one that you're passionate about.
Can I donate timeshare week to a charity for tax deduction?
Yes. Timeshare donation is not all about giving rid of a property or doing a good deed. It also means tax write-off. Deductible amount from your taxes, however, will be based on its fair market value. For someone in a 33 percent tax bracket, a timeshare property worth $80000 can fetch around $2640 tax write-off.
Donating a timeshare property for charity is indeed a worthy proposition. In all aspects, it's a win-win situation with you enjoying tax benefit (plus no more maintenance fees woes!), the charitable organization gets a new source for funds, and timeshare buyer a great deal. Cheers!
Summary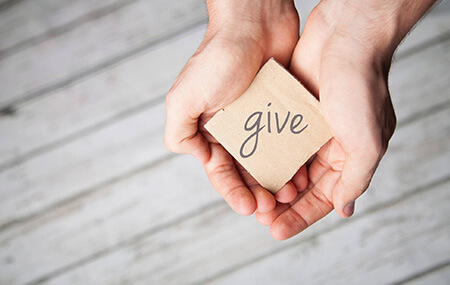 Article Name
Can You Donate Timeshare To Charity?
Description
Don't just get rid of a timeshare. Let others benefit from it. But can you donate timeshare to charity? Find out how.
Author